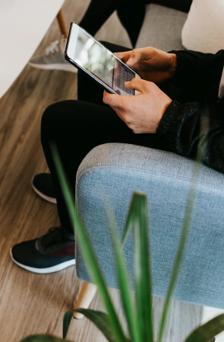 While Covid-19 has introduced us to this new platform called Telehealth it has enabled us to expand this service to suit many other circumstances. Some of our clients travel long distances to attend a face to face appointment. Telehealth could minimise travel for these clients and many more. Others live interstate or overseas where they may not have access to a local Osteopath, now with Telehealth we're only a call away!
Telehealth is for everyone;
Campers that forgot their pillows and end up with a sore neck
Busy Mums who can't get to the clinic because there's no one to watch the kids
Your sister who can't leave the house because of a bad hair day
Telehealth is the perfect option. 
Telehealth is a great platform where we can communicate via a video chat to best manage your presentation. Similar to a face to face consultation we will go through a case history. This involved discussing your presentation and answering all of your questions. The video option allows us to do an assessment. We can go through exercises, home management and other tips and tricks to help better your home ergo setup or couch posture. 
Although we're not able to treat you with our hands on approach, we've found teaching simple techniques, stretches and mobility exercises are gaining positive results. This also gives us an opportunity to watch your form when performing your exercises. This ensures that you're getting the most out of your routine. 
Appointments can be made easily for a Telehealth consultation via our website or by giving us a call. We use Zoom as our platform and will send you a link to your appointment.  An initial appointment is $60 and is up to 40minutes, a return appointment is $50 and is up to 30 minutes. 
Written By Dr Emma Humphrey